The Global Command Interface Widget Mock-Up
Edit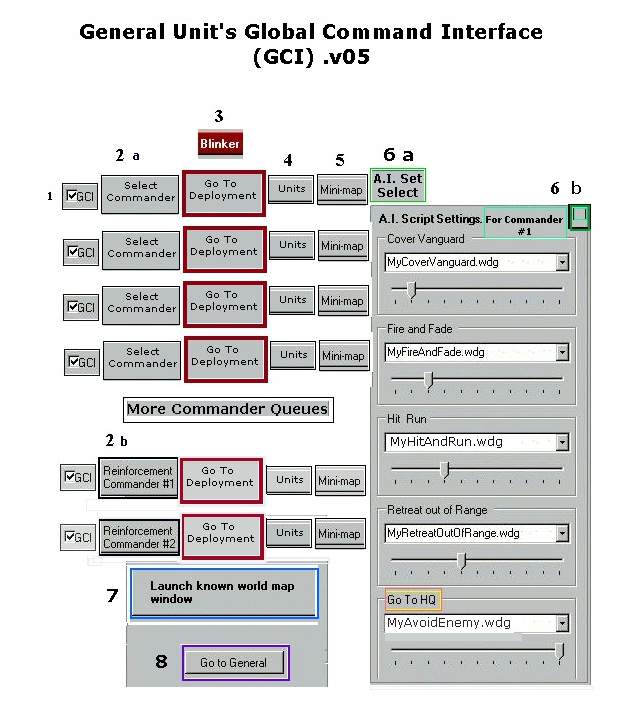 Description of the GCI Functionality
Edit
Button #2 a: Pop-up list of available Field Commander Units to select from
Button #2 b: Pop-up list of Available Commanders for Reinforcement Duties * (see 5a. of Supplemental for more).
Screen (#6 b:) You select A.I. Presets & Thresholds for that command group. After setting, close like standard window.
Button #7: Press to launch resizable Known World Map. Close like standard window. If you Have a Commander led Combat Group loaded onto a transport you should be able to navigate that transport directly from this map.
Additional GCI Commentary
Edit
1.) Individual Commanders still have their own command screens. The main difference being that A.I. scripts are player assigned as in the GCI.
Also remember - If checked the GCI option wil over-ride Commander screen A.I. settings with the GCI presets.
2.) Combat Group assembly & linking are still done at the Commander level.
8.) The Player can Name his Combat Groups (&/or choose some symbol) and that is how they will show up on maps as well as the GCI pop-up select.
9.) The GCI is linked to the General Unit. If the General Unit is killed you lose GCI access.
However another Field Commander can rise in Rank, under those circumstances, to achieve General rank.
At such a time the GCI once again becomes available.
GCI Supplemental 2
Edit
1st Rookie = Greenie
2nd Second Lieutenant = Single Gold Bar
3rd First Lieutenant = Single Silver Bar
4th Captain = Double Silver Bar
5th Major = Gold Oak Leaf
6th Lieutenant Colonel = Silver Oak Leaf
7th Colonel = Silver Eagle
8th Brigadier General = One Silver Star
9th Major General = Two Silver Stars
10th Lieutenant General = Three Silver Stars
11th General = Four Silver Stars
12th General of the Army = Five Silver Stars
10.) > A.I. Slider Threshold Triggers (Health of Base-line Unit) can only be set as unique increments of 10% (relative to each other). You cannot, for example, have 2 scripts set at 90%.
Your lowest threshold setting will prevail until you, the General, actively re-address that Combat Group.
GCI Supplemental 3
Edit
Community content is available under
CC-BY-SA
unless otherwise noted.